Statistics in Crescent Moon Sighting
Prof. Dr. Ibrahim Mohamed
Institute of Mathematical Sciences
Faculty of Science
University of Malaya
Abstract
The monthly crescent moon sighting activities has always been important in Malaysia as the visibility of a crescent moon will affect the start of the fasting month, the celebration Eidul Fitri/Adha and Islamic new year. For the past few years, the involvement of scientists in the activities in Malaysia enable relevant data on moon sighting to be collected. In this study, we use a data set which consists of 94 positive data (with sighted crescents) and 113 negative data with no sighted crescents. The variables considered are a mix of linear and circular variables. While standard tools can be used for linear-linear variables, specialized statistical measures and inferences need to be used in the analysis for analysis involving linear-circular and circular-circular variables. Three main variables which are considered important in the determination of visibility of crescent moon are Elongation, altitude of moon and ARCV. Here, we perform descriptive and inferential statistical analysis on the data in understanding the relationship between the variables considered. The understanding of these relationships especially between linear-circular and circular-circular variables should enable us to come up with a more scientific way of sighting the crescent moon in the future.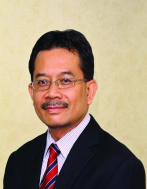 Prof. Dr. Ibrahim Mohamed
Institute of Mathematical Sciences
Faculty of Science
University of Malaya

Professor Dr. Ibrahim bin Mohamed is currently the Head of Department of Institute of Mathematical Sciences, University of Malaya (UM). He earned his Ph.D. in Statistical Modelling from Universiti Teknologi Mara (UiTM) and joined University of Malaya afterwards. Currently, he is the President of the Institute since February 2020. His main research area concerns with the occurrence of outliers in different types of data including circular, time series and survival data. Various outlier detecting procedures have been proposed with the earliest one is called the A-statistics for univariate circular sample in 2009. One of his main finding is the introduction of circular boxplot, useful in depicting circular data. Currently, he is involved in developing new criteria for sighting crescent moon of activities in Malaysia.